*Denotes items with footnotes in "'My American Dream': Dreaming of Broadway and the West End".
** Denotes items with footnotes in "Performing Like a Concert King or Queen: Producing Original Filipino Musicals".
A chance to spend a night at the theater was one to write home about. Literally. Shows being performed on Broadway and West End were the talk of the town no matter whether you were in New York/London or not. Thus came the opportunity to produce these hit shows overseas. There was an open space to fill in the Philippines, for they have notable talent in singers and performers. It only seemed like the logical choice to start bringing the big shows to the Philippines. Two major companies started producing this mega hits with Filipino talent and crew: Repertory Philippines and Atlantis Productions Inc.
Repertory Philippines
---
Repertory Philippines has been around since 1967. They opened with a Tagalog version of "Miss Julie", a play about a young woman, Julie, in a household who falls for the valet, Jean. The two fall for each other despite the fact that he is betrothed to the cook, Christine.
"Despite Miss Julie's critical success, Rep Phil opted to stage plays in English, particularly tried and tested productions coming from New York and London."*
Repertory Philippines didn't produce a musical until 1974 when they put on the Fantasticks. During this time, the show was running off-Broadway, where it ran from 1960-2002 equaling over 17,000 performances by the time it finished. It's safe to say this was a popular musical.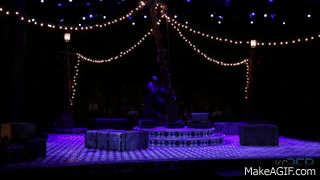 This production was especially successful in that Rep Phil's ticket sales skyrocketed. The Fantasticks was immediately followed by another Musical, Alan Jay Lerner and Frederick Loewe's My Fair Lady, with sold-out shows during a three-week run also in 1974.*
Since then, Rep Phil has included at least one musical in each of their seasons! They are always staged, set, and dressed to be as close to the original as possible. Licensing Agencies such as Music Theatre International and Samuel French are in charge of which shows get published for companies to buy the rights to perform them as long as they can meet the requirements for each show. Since Rep Phil had been working out of a small theater, they used smaller sets and orchestra pits.
Repertory Philippines had built a reputation for being a place to see the big Broadway and West End hits. In the 1980s, they began to bring franchises of "mega-musicals" to the Philippines, which meant sets, costumes, lighting, and merchandise. The newer musicals got more attention than producing older musicals.
Cameron Mackintosh, a notable British theater producer, worked with the Rep Phil during their famous run of Les Misérables, also conducted a tour looking for actors for Miss Saigon, which ended up producing the successful careers of theatre legends, Lea Salonga and Monique Wilson, who were both employed by Repertory Philippines.
Atlantis Theatrical Entertainment Group
Founded by Bobby Garcia in 1998, ATEG, originally API for Atlantis Productions, Inc. produces a lot of contemporary shows, especially musicals. ATEG "also prides itself on having toured most Asian cities with its own original productions of Broadway and West End musicals."* They have produced shows such as Hairspray, the 25th Annual Putnam Spelling Bee, Legally Blonde, and many more. Garcia brings in big musicals, but gives them a little twist by bringing an original change to the performance. Bobby studied in British Columbia and worked in New York before opening API back in the Philippines.
Bobby Garcia, Bobby Barreiro and Tony Tuviera through Atlantis are proud to continue the tradition of bringing the best the West End and Broadway have to offer to local audiences, nurture and showcase the abundance of Filipino talent, and to expand this experience to the exponentially growing number of theatregoers in the region.
Following in its trend of staging the latest and the greatest musicals of the time, ATEG has gotten the rights to a recent superstar. Upcoming for ATEG in December 2018 is the box-office winning musical, Waitress, with hit songs by American singer and songwriter, Sara Bareilles. It was originally premiered in August of 2015 in the states, but just three years later, it will be playing in the Philippines with a Filipina lead, Joanna Ampil.
In November 2015, just a year and a half after its Broadway release date, ATEG impressively opened the first international run of Jason Robert Brown's the Bridges of Madison County. 
Joanna Ampil was the lead in this musical as well, playing Francesca Johnson. Garcia's twist on this production was utilizing the extremely talented Faust Peneyra, who designed the set for the show. He also worked directly with Jason Robert Brown, who made changes to the score. In a way, this show was entirely new when it came to Manila.
The Rent Race
---
Who was going to produce the show first? In 1996, Rent took the world by storm. Its hit song, "Seasons of Love" had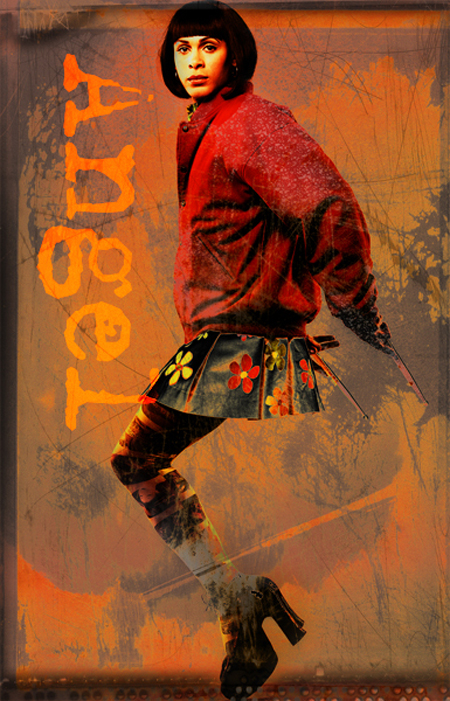 already been playing on radio stations. It was highly anticipated for the show to make its appearance on the islands. So who would it be? Would it be the Repertory? They were, after all, the original "big musical" producers, having originally brought all the greatest shows from New York and London such as Evita, The King and I, Into the Woods, South Pacific, and Les Misérables just to name a few. It only seemed right for them to bring the next biggest, most iconic show over, right? But what about Monique Wilson's company, New Voice Company? She was the sole star in Miss Saigon after Lea Salonga left the main role. Wilson had studied in London and come back to the Philippines to create her own theater company, so with her London connections, it definitely seemed likely that she could get the rights to create the show. Then there was of course,
Atlantis Productions, Inc. with Bobby Garcia, who had studied at the University of British Columbia, worked in New York and was "in close contact with the estate of Jonathan Larson because of his investment in the Off-Broadway musical, Tick, Tick… Boom!."* And depending on what is actually was that got Bobby the advantage, API along with NVC produced the first performances of Rent in Manila. This changed the game for theater in the Philippines since normally, seeing a show this soon after its premiere had only been made possible when touring companies from other countries had brought their show abroad. However, Garcia used Filipino actors and crew. But with these rights, they used almost exact replicas instead of creating an original production. Rent has since been staged at least twice since its first run.
Discussion of Authenticity
A recurring complication with producing Western musicals is the very fact that they are Western. The exact replicas that are produced when bringing these "mega-musicals" to the Philippines include the same staging, costuming, and scripts to make the productions as close to the original as possible. What this does for other cultures, that is positive, is that these shows expose them to other places in the world without ever having to leave their country. However, when the only shows being produced are the ones from other countries, only foreign cities are shown, no cultural references to the Philippines are shown, and they're only produced in the English language instead of a national Filipino Language.
A prime example would be the Bridges of Madison County, which is about an Italian woman who marries an American man and moves to Winterset, Iowa. She builds a home and family there only to fall for a National Geographic photographer from Seattle, Washington while her family is away at a 4-H competition in Indianapolis, Indiana.
This show has already mentioned three separate cities across the United states, the 4-H club which started in the states, and a specific magazine in just the beginning of the first act. That is a lot of context to understand if you haven't lived in the states your whole life.
But, in an interview with Music Theatre International, Bobby Garcia said he loved the show because "I was attracted to the music and story. It is a love story that crosses all cultural boundaries. It may be set in Iowa but our hearts all beat the same, wherever we are in the world.  Add to that, Jason Robert Brown's stunning score, it is a musical easy to fall in love with."
Of course, a person could say that anyone who enjoys seeing an Italian opera or a pop concert could experience the complications of having to provide their own context. And that is true to an extent. HOWEVER, there are many more options to produce musicals that are set in the United States and England than other countries, such as the Philippines.
But there is an upside!
Filipino actors and singers are building acclaim internationally, even having stories of famous Filipinos being turned into plays and musicals, such as Here Lies Love (David Byrne & Fatboy Slim), which tells the story of former First Lady, Imelda Marcos or The Silent Soprano, which tells the Cinderella story of a domestic worker in the Philippines being transformed into a Cantopop star (Ricardo Saludo & Alexander Cortez).** The Philippines are being recognized for their talented singers, dancers, and actors by getting the chance to be in "mega-musicals" without having to leave their country.
Original Filipino Musicals
In contrast to the theaters like Rep Phil and API which were bringing those "mega-musicals" from Broadway and West End, there are companies that pushed to create their own form of the mega-musical with Filipino characters, musical styles, and writers/directors/composers. Companies such as Tanghalang Pilipino (TP) and Dulaang UP both have training programs and produce these original shows.
One popular musical is ZsaZsa Zaturnnah, based off the graphic novel with the same character. It's main character is the superhero, ZsaZsa Zaturnnah, who is a strong and muscular woman with fiery red hair when fighting crime, but instead of a transformation similar to Superman putting his glasses back on to become Clark Kent, ZsaZsa "a voluptuous female with long red hair and muscular physique, whose alter-ego Ada is an effeminate homosexual".** The comic became so popular, it was number twelve on the Philippines best-seller fiction list. Multiple  universities including the University of the Philippines require it for gender studies classes.
Even if not used for this purpose, ZsaZsa is a perfect rebuttal to the influx of western influence on Filipino Theater because the subject matter is entirely based on Filipino archetypes. It uses local towns in the Philippines as the backdrop for the musical, so there is no interpreting where the story is placed, like what might have to happen with the imported musicals. The references made in the musical are culturally accessible to Filipino pop culture instead of American or British pop culture.
Many Original Filipino Musicals are colored musically by the singer's ability to sing birit, a very popular style of pop singing that includes belting extremely high at the climax of songs. According to Lea Salonga, "we're not all created to be trumpets". While she encourages people to sing birit if they can and want to, she describes birit as more of a stylized way of singing and that it is not the end all be all of your ability. In American culture, singers such as Whitney Houston, Celine Dion, Jessie J, and Demi Lovato would be considered to sing birit. Below is an example of the singing style by the "Birit Queens".
In fact, many Original Filipino Musicals will use pop stars in their musicals in order to bring in a larger audience. We have seen this in the states recently with stars like Brendan Urie (Kinky Boots), Nick Jonas (Les Misérables), Sara Bareilles (Waitress), Jordin Sparks (In the Heights), Billy Joe Armstrong (American Idiot), and Huey Lewis (Chicago).
The Philippines are just now tapping their potential for producing original shows in Tagalog, with Filipino characters, and featuring the Philippines as the backdrop for their shows. There is still more to be done, but people such as Zeneida Amador (Rep Phil) Bobby Garcia (API/ATEG), and Monique Wilson (NVC) and companies such as Tanghalang Pilipino and Dulaang UP are paving the way for home-grown talented performers, artists, and composers. While it is apparent that Western influence seeps into many aspects of their theatrical success, that influence has assisted in making the Filipino theater world known internationally. With this kind of direction, we'll hopefully be seeing Original Filipino Musicals on international tour in the near future.
---
References:
*Sir Anril Pineda Tiatco. "'My American Dream': Dreaming of Broadway and the West End". The Palgrave Handbook to Musical Theatre Producers. (Palgrave Macmillan, New York: 2017) 334.
*Sir Anril Pineda Tiatco. "'My American Dream': Dreaming of Broadway and the West End". The Palgrave Handbook to Musical Theatre Producers. (Palgrave Macmillan, New York: 2017) 334.
*Sir Anril Pineda Tiatco. "'My American Dream': Dreaming of Broadway and the West End". The Palgrave Handbook to Musical Theatre Producers. (Palgrave Macmillan, New York: 2017) 337.
*Sir Anril Pineda Tiatco. "'My American Dream': Dreaming of Broadway and the West End". The Palgrave Handbook to Musical Theatre Producers. (Palgrave Macmillan, New York: 2017) 338.
**Sir Anril Pineda Tiatco. "Performing Like a Concert King or Queen: Producing Original Filipino Musicals". The Palgrave Handbook to Musical Theatre Producers. (Palgrave Macmillan, New York: 2017) 450.
Sir Anril Pineda Tiatco. "Performing Like a Concert King or Queen: Producing Original Filipino Musicals". The Palgrave Handbook to Musical Theatre Producers. (Palgrave Macmillan, New York: 2017) 451.